WE WELCOME RIDERS WHO ARE LOOKING FOR
SUPPORT IN THEIR WORK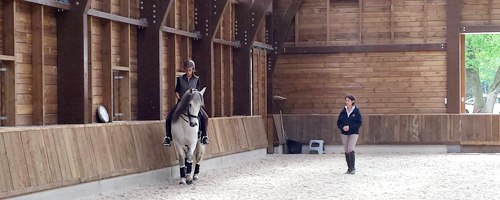 •  Lessons with your own horse
•  Advanced lessons with our "school horses"
•  Lessons for young riders
•  Training of your horse
•  Clinics
•  We train the horses of our students from breaking-in to advanced level
LESSONS
• Regularly in private lessons with your own horse or our school horses.
• Occasionally for a short or long period of time.
CLINICS
Clinics are regularly organized. You can attend with your own horse or with one of our horses.
Lessons are organized according to the needs of each horse-and-rider pair.
We are also working with other professionals who share our philosophy. They bring their personal experience with horses and thus help us enrich our knowledge and our work.
USEFUL INFORMATION
• We speak: French, English, Spanish & German
• On-site accommodation is possible in our cottages

YOUNG RIDERS
AT THE MANÈGE DES HOUX
Before becoming a passionate advanced rider, there is a long way to go, full of joys, discoveries and efforts shared with your equine partner. We propose to accompany your child along this way by providing a strong foundation that will enable him/her to move towards the discipline of his/her choice. Through playful, dynamic and targeted teaching methods, your child will naturally learn to maintain balance and develop a good seat and position that are absolutely required to apply correct aids.
In addition to riding skills, we will transmit an equestrian culture with an immersion into the world of horses which will be addressed in all its aspects.
Learning to ride is a school of life where respect for others, pushing one's limits, discipline, rigor, sharing, feeling and being open-minded are taught.
OUR PROGRAM
•    Group lessons consisting of a maximum of 5 riders to ensure the development of each of them (from the age of 6)
•    Lessons on trained horses to offer the best possible learning conditions
•   Discovery and advanced courses during the school holidays
•    Multidisciplinary program: flat work, jumping, cavaletti work to develop the seat, liberty training
•   LEWB affiliation
Discovery activities are proposed for children under 6.
MANÈGE DES HOUX – Catherine LAURENTY
Adress : Sur les Houx 10, 4190 XHORIS, Belgium  •  Tel : 0032 (0)4/380.34.43  •  Mail : info@manegedeshoux.be